Frequently Asked Questions
Discreet Shipping
We want you to talk about VUSH, but not with the postie.
10,000+ Reviews
Our range is honestly adored all around the world.
For Everyone
There's something here for every body and every babe.
Always Innovating
We explore the tech so you can explore your body.
Blog posts
VUSH's sexpert Steph has created a lube guide to answer all your burning questions, including what is lube and how to use lube.   What is lube?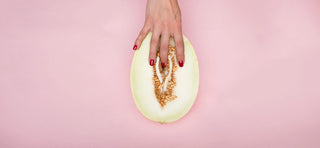 Not too long ago, masturbation was rarely discussed and considered taboo (especially for people with vulvas). Fortunately, society has moved forward and we're able to recognise that self...
Orb Pleasure Ring Is Perfect For...
Ellie - ⭐⭐⭐⭐⭐
"A ring that will keep your sex life on the UP! My bf and i have been going through a bit of a sexual slump, so i was really excited to surprise him with something new! This thing had us both levitating. The added vibrations felt amazing for both of us and the ears hit my clit perfectly. 10/10 recommend to a friend"
Alex - ⭐⭐⭐⭐⭐
"If you ever thought to yourself "I wish I could turn my boyfriend into a rabbit vibrator" RUN, don't walk to get your hands on an Orb! He absolutely loved that he got to be in control and it was so much fun to lean into the play and experience something new together. The rabbit ears got me good - this toy is definitely going to be high in rotation!"
How To Use Orb...
Let's say goodbye to the intimidation and embrace the fun, together.
Solo Clitoral Stimulation
Orb's rabbit ears are perfect for waking up the entire vulva by stroking and running the toy up and down the lips of the labia. Use Orb's ears to stimulate either side of the clitoris.
Solo Penis Play
Place Orb on the base of the penis and flip 180 degrees to stimulate the testes or perineum. Stimulate the shaft and head of the penis with your hand.
Nipple Play

Press Orb's ears against the nipples to stimulate the dense nerve endings or sensually use Orb's ears to draw squiggly lines around the breast as foreplay. Just like in the genitals, the tissue in the nipple becomes erect and the brain sends messages of arousal, which explains why nipple stimulation can lead to orgasm.
Couples Play: Vulva + Penis
Place Orb on the base of the penis. The stretchy material should fit comfortably around any penis or dildo. During penetration, Orb will add extra sensation to the penis of one partner while the ears gently hit the clitoris of the other partner.

Try a sex position that allows the vulva-owner to easily grind against Orb - cowgirl or Missionary positions are a great starting point. By slightly restricting blood flow to the penis, Orb helps maintain erections so penetrative sex can be enjoyed for longer.
Couples Play: 2 Penises
During penetrative sex, flip Orb 180 degrees to stimulate the testes of the person penetrating or perineum of the person receiving. For external stimulation, have one partner wear Orb on the base of their penis while the other partner stimulates the shaft and head of the penis orally or with their hand.

Alternatively, put on a show by grabbing an Orb each and engaging in mutual masturbation. By slightly restricting blood flow to the penis, Orb can help make orgasms feel stronger!
Couples Play: 2 Vulvas

Slip Orb over a dildo for rabbit-style dual internal and external stimulation, or use Orb during penetrative sex with a strap-on or harness. Refer back to handheld use of toy for clitoral or nipple play.
Frequently Asked Questions
Expand Your Collection...