Frequently Asked Questions
Discreet Shipping
We want you to talk about VUSH, but not with the postie.
10,000+ Reviews
Our range is honestly adored all around the world.
For Everyone
There's something here for every body and every babe.
Always Innovating
We explore the tech so you can explore your body.
Blog posts
VUSH's sexpert Steph has created a lube guide to answer all your burning questions, including what is lube and how to use lube.   What is lube?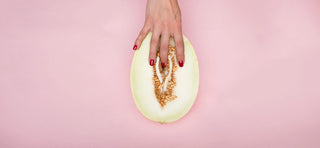 Not too long ago, masturbation was rarely discussed and considered taboo (especially for people with vulvas). Fortunately, society has moved forward and we're able to recognise that self...
Sol Vibrating Stroker Is Perfect For...
Alyssa - ⭐⭐⭐⭐⭐
My man has always been skeptical when it comes to sex toys, so we decided to give this a go as it was one of the more beginner friendly toys we came across. We used it during foreplay and I loved that it took on the bulk of the work during head (he also loved the added texture and different vibrations).

If you're curious about dipping your toes into the world of sex toys for the first time - this is a fab option! Five stars from both of us

Hot tip: use lots of lube to get things going!
Tiffany - ⭐⭐⭐⭐⭐
My boyfriend and I LOVED using the stroker. We've been together for over 5 years and this toy really shook things up in the bedroom. It's definitely become a staple in our toy box - he absolutely loves it!
How To Use Sol...
Let's say goodbye to the intimidation and embrace the fun, together.
Step 1
Lubrication! Start by liberally applying lube to both Sol and the penis. Sol works best with water-based lubricants like VUSH Feelin' Myself Intimate Gel as oils, creams, and silicone-based lubricants can damage the medical-grade silicone of the toy over time.
Step 2
Once lubed up, slide Sol over the penis. We recommend putting the toy on while the vibrations are off to experience the ribbed texture along the shaft of the penis. You may need to adjust the wings of the toy to get a comfortable fit.
Step 3
Dial it up a notch by turning Sol on. Hold down the power button for 3 seconds to start the vibrations. Begin on the lowest level and move the stroker up and down the shaft and then explore other pleasure settings. It may feel pleasurable to focus the toy around the frenulum (the spot where the foreskin meets the underside of the penis).
Step 4
Get a partner involved! Sol has been specifically designed for inquisitive couples to explore new experiences together. Using a stroker on a partner is like giving an expert level handjob. Since Sol is open-ended, the head of the penis can be stimulated orally and the balls can be massaged by a partner while the stroker is being used.
Frequently Asked Questions
Expand Your Collection...